Main content starts here, tab to start navigating
Butchery Smoker-Box
ALL ITEMS ARE RAW AND YOU WILL COOK AT HOME!
$6.00 lbs. chicken wings (approx. 12pc) – w/ secret seasoning mix & 3 signature sauces, chipotle-honey-fire
$8.00 Lbs. BBQ sausage (secret blend)
$5.00 a Half Chicken - w/ secret poultry rub
$7.00 a Whole Chicken - w/ secret poultry rub
$18.95 a Pork Rib Slab (St Louis trim) w/ secret rib seasoning
$48.00 Beef Brisket (6-7 Lbs. raw/feeds 4-5) w/ signature brisket spice
Backyard Grill-Picnic Package $25.00
4-Burger patties w/ Brioche buns -cheddar cheese and lettuce, tomato, onion, pickle toppings
4-Beef Hotdogs w/ split top hoagie buns – pickle relish, diced onions toppings
1 Coleslaw kit (your choice)
1 Bean kit
ADD ON'S
$6.00 Hickory-pit Bean Kit (32oz feeds 4) 1-pouch of signature beans & 1-pouch smoked bean meat
$4.00 Coleslaw Kit's- Spicy or Creamy (32oz feeds 4) Includes 1-pouch of shredded cabbage mix & 1-pouch of secret slaw dressing
$5.00 Mac-n-Cheese Kit (32oz feeds 4) 1-pouch of secret cheese sauce & 1-pouch pasta shells
Accompaniments
Award-winning barbecue sauces: Sweet Chipotle - Honey Glaze - Thick n bold - Original- Spicy Southwest -Fire
Specialty Rub's, seasoning's and Spices: Poultry – Burnt End – All Purpose – Pork Butt
*All Items Include cooking instructions
Download PDF
Package 1: $35.00 come with their choice of beverage (non-alcohol)
4 BBQ Sandwiches
Meat Options:
Brisket, Hickory Ham, Smoked Turkey, Smoked Sausage, Burnt Ends
4 Sides (your choice)
4 Chocolate Chip Cookies
Package 2: $45.00 come with their choice of beverage (non-alcohol)
Choice of 4 BBQ Bowls
Bowl Options:
Burnt End Bowl
Mac It Your Own Bowl
Smoked Turkey Bowl
Pig Out Bowl
Vegan Bowl
Build Your Own Bowl (2 Choices of Meat)
Margaritas | $20.00 per quart | SERVES 4
Beer | $8.00 for SIX BOTTLES!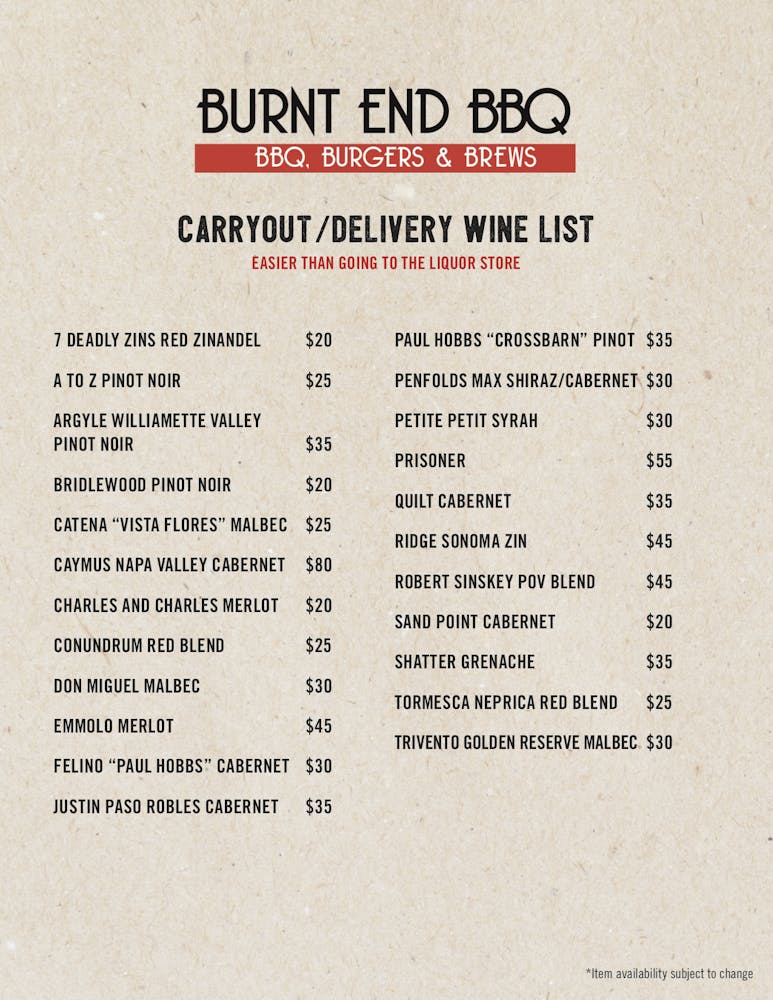 $5.95 A LA CARTE
$1.99 Kids Meals with the purchase of a "FEED THE FAM DEAL"!
Cheese Burger
Mac 'N' Cheese
PBJ Sandwich
Mini Corn Dogs
One Meat Sandwich
Choice of: (Burnt Ends, Brisket, Smoked Turkey, Chopped BBQ Meat, Smoked Sausage, Pulled Pork, Hickory Ham)

"All Kids Meals come with Drink, Side, and Chocolate Chip Cookie!"
Drink Options: Pepsi Products, Milk, Chocolate Milk, Orange Juice, Cranberry Juice, and Pineapple Juice.

Side Options: Broccoli, Carrots, Fries, Pit Beans, Grapes, Cheesy Corn, Baked Potato Salad, Coleslaw, Wild Rice, and Apple Slices.
Platters
all platters come with texas toast & pickles
One Meat Platter

with two sides

$12

Sub Chicken $2.50

Sub Ribs $4

Two Meat Platter

with two sides

$15

Sub Chicken $2.50

Sub Ribs $4

Chicken Tenders

Choice of 2 sauces

$12

1/2 Chicken Platter

with two sides

$14

Rib Dinner (Traditional or Crispy Teriyaki)

choice of two sides

1/2 Slab $18

Full Slab $28

Blue Ribbon Platter

burnt ends, ribs, turkey & pulled pork, beans, coleslaw, fries

$28

Sub Chicken $2.50

Sub Ribs $5
Best Wings In Town
"No other wing joint, or BBQ joint for that matter, will ever quite measure up again." - Google Review..... tossed in your choice of sauce served with ranch or bleu cheese dressing
8 piece

$12

12 piece

$16

16 Piece

$22

Pick your sauce!

Honey-Glaze, Fire, Sweet Chipotle Glaze, Pineapple Teriyaki, Thai Chili, Buffalo, Garlic Butter Sauce
Backdoor Chicken $10
snag a whole chicken to-go after 4 pm, daily
Salads & Soups - NEW
Smoked Turkey Cobb

house-smoked turkey, bacon, egg, avocado, tomato and bleu cheese crumbles served on mixed greens with ranch dressing

Half $9

Full $12

Fried Chicken & Avo

panko coconut-crusted fried chicken, bacon, avocado, artichoke hearts, tomato and cheddar jack cheese on mixed greens with honey mustard dressing

Half $10

Full $13

Smoked Salmon

house-smoked salmon, bacon, bleu cheese, dried cranberries and spiced walnuts on mixed greens with citrus vinaigrette

Half $11

Full $15

Chef's Seasonal Soup

Cup $4

Bowl $6

White Bean Turkey Chili

Cup $4

Bowl $6

Soup & Salad Combo

bowl of soup with any 1/2 salad

$14
Sides
Hickory Pit Beans

Side (4 oz.) $3

Cup (8 oz.) $5

Pint (16 oz.) $7

Quart (32 oz.) $10

Cheesy Corn

Side (4 oz.) $3

Cup (8 oz.) $5

Pint (16 oz.) $7

Quart (32 oz.) $10

Mac N Cheese

Side (4 oz.) $3

Cup (8 oz.) $5

Pint (16 oz.) $7

Quart (32 oz.) $10

Baked Potato Salad

Side (4 oz.) $3

Cup (8 oz.) $5

Pint (16 oz.) $7

Quart (32 oz.) $10

Creamy Cole Slaw

Side (4 oz.) $3

Cup (8 oz.) $5

Pint (16 oz.) $7

Quart (32 oz.) $10

Sweet & Spicy Slaw

Side (4 oz.) $3

Cup (8 oz.) $5

Pint (16 oz.) $7

Quart (32 oz.) $10

Tomato Cucumber Salad

Side (4 oz.) $4

Cup (8 oz.) $6

Pint (16 oz.) $8

Quart (32 oz.) $11

Classic Potato Salad

Side (4 oz.) $3

Cup (8 oz.) $5

Pint (16 oz.) $7

Quart (32 oz.) $10

Other Sides

Rustic Fries $4

Onion Rings $4

Onion Straws $4

Crispy Fried Cornbread Croutons $4

Seasonal Veggies $5

House Salad $6
Between the Buns
all sandwiches and burgers come with our rustic fries or coleslaw! other sides can be substituted for just $.99 *gluten-free buns available upon request*
One Meat BBQ Sandwich

choice of one meat, regular or jumbo

Regular $10

Jumbo $12

Two Meat BBQ Sandwich

choice of two meats, regular or jumbo

Regular $11

Jumbo $13

The PK Sandwich

choice of meat, onion straws, provolone, bbq sauce, topped with an onion ring

$12

The Stack Sandwich

brisket, ham, turkey, bacon and pepper jack queso with romaine & tomatoes on a hoagie

$12

The Chop Sandwich

burnt ends, brisket, pork, bbq sauce with crispy onion straws on a hoagie

$12

The Basic Burger

LTO, pickle & American Cheese

$10

sub vegan BEYOND patty $4

Big-Pig Burger

ground chuck, bacon, pulled pork, pepper jack cheese, slaw, crispy onion straws, bbq sauce & LTO

$12

Add on to your buns

Avocado | Bacon | Pickled Jalapenos | Grilled Onion | Fried Egg | Crispy Onion Straws

each $1

Add Extra Beef Patty

$2

Swap Your Side

Onion Rings | Seasonal Veggies | Hickory Pit Beans | Cheesy Corn | Baked Potato Salad | Creamy Coleslaw | Mac N Cheese | Sweet N Spicy Slaw | Classic Potato Salad | Cornbread Wedge | Onion Straws

$1
Smokey's Signature Bowls
Burnt End Bowl

burnt ends, beans & cornbread croutons topped with crispy onion straws

$12

Mac It Your Own Bowl

creamy mac 'n' cheese with your choice of smoked bbq meat tossed with traditional bbq sauce, topped with herbs and crispy onion straws

$12

Smoked Turkey Bowl

smoked turkey tossed in bbq sauce, grilled seasonal vegetables, wild grain rice

$11

Pig Out Bowl

pulled pork, beans, spicy coleslaw, and cornbread croutons finished with onion straws

$11

Vegan Bowl

crispy fried tofu tossed in bbq sauce, grilled seasonal vegetables, wild grain rice

$11

Build Your Own Bowl

your choice of two smoked meats, two sides, crispy cornbread croutons

$13

Add to Your Bowls

Avocado | Bacon | Pickled Jalapenos | Grilled Onion | Fried Egg | Crispy Onion Straws

each $1
Hand-Carved Meats
Pulled Pork

1/2 lb. $9

1 lb. $15

Hickory Ham

1/2 lb. $9

1 lb. $15

Smoked Sausage

1/2 lb. $9

1 lb. $15

Smoked Turkey

1/2 lb. $10

1 lb. $17

Chopped BBQ Meat

chopped meat is a combo of brisket, burnt ends and pork

1/2 lb. $10

1 lb. $17

Burnt Ends

1/2 lb. $11

1 lb. $19

Brisket

1/2 lb. $11

1 lb. $19

Smoked Chicken

Half $10

Whole $17

St. Louis Style Ribs

Half $15

Whole $24